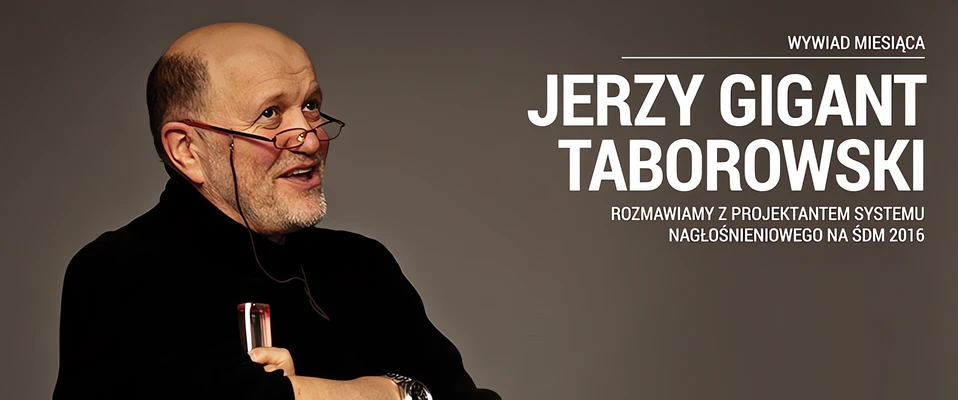 Interview: Jerzy Taborowski - the "Gigant" sound... (ENG)
The 2016 World Youth Day gathered an approximate of 3 million pilgrims from all over the world, many of who don't realize the complexity of organizing such an event. Without a doubt, the greatest challenge here was the technical preparation, i.e. the design and deployment of an optimal sound reinforcement system. We are proud to present an exclusive interview with Jerzy Taborowski, the owner of Gigant Sound-Letus, who rose to the challenge.
Jerzy "Gigant" Taborowski is the main designer of the powerful PA deployed in Brzegi. To cover such a vast area required highly advanced equipment and, of course, an unparalleled wealth of experience.
SOUND REINFORCEMENT
In what ways was this project unique?
Jerzy Taborowski: it all started in the September of 2015 with a inquiry from the Roman Catholic Curie of Cracow. Included were specific parameters, which a PA system should meet. They were prepared by Wojciech Cieslak from the AGH University of Science and Technology in Cracow, who acted as representative and consultant for both the AGH and the Curie. Acoustic model of this huge project was ingineered by Firma Producencka Gorycki & Sznyterman sp.j.
The calculations had to be made in the EASE prediction software, widely used in the preparation stages of installation projects. After I've seen the maps I've decided, that the solution here would be a very dynamic system. It was the perfect time for us to test the newly acquired OUTLINE rig, which later on proved to possess far greater dynamics and range than we ever expected.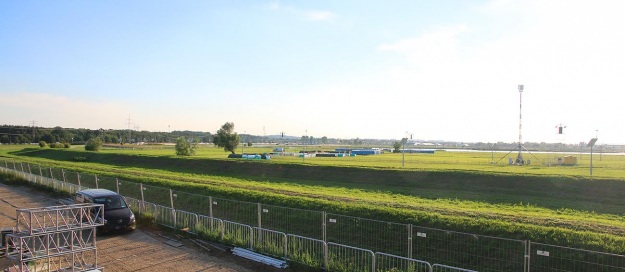 After consulting with Pawel Zakrzewski, who is a close cooperative of ours and who is greatly experienced with EASE calculations, I decided to draft some initial calculations and present the offer to the Curie. Based on the maps provided (which were often changed later), we've marked the circles of the delay lines. It's important to note, that the first project already included OUTLINE delay lines spaced 150 meters apart, nearly twice the distance in regular sound reinforcement systems.
Let me remind you that usually the distance between delay lines is usually 80, maybe a 100 meters, but 150m was way too optimistic. The calculations suggested we use about 140 towers, which the organized did not approve due to the costs involved.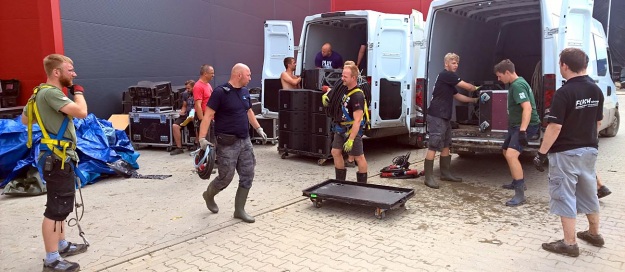 Deploying such an amount of towers, running industrial power lines, optic fiber pipes and the devices themselves would be too pricy. Mr Wojciech Ciesielka suggested we use every second tower deployed on the drawn circles, arranged in a diamond-shape array – which meant each tower would be spaced 300 meters apart! "Now, that's a challenge" – I thought to myself. Pure madness! Yet after giving it some thought I decided to give it a try.
The OUTLINE engineers claimed that it's physically impossible for such a system to work. Even I considered this very risky business, and that is with the best weather possible – no rain, wind and high temperatures. Outline confirmed their full support under one condition – that the responsibility rested on me alone. I took the risk.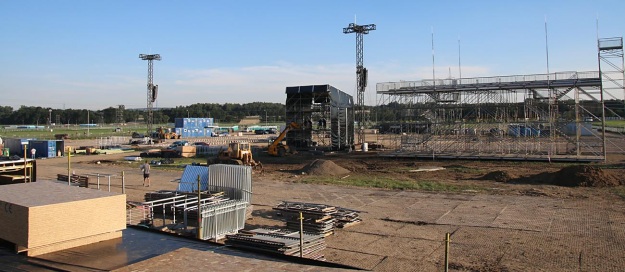 EASE yielded satisfactory results for the whole terrain with very few OUTLINE components. Too few, if you ask me. Based on our experience gained in numerous large scale outdoor events however, we knew that OUTLINE systems provided incredible results. The challenge was accepted, yet with slightly increasing the amount of sound sources.
We've input new calculation data – the results were to be the same, but the gain of our gear was to be reduced by 10 dB in the whole area, and by 16 dB in the VIP sector, or "Zone 0". We moved a few towers around and the software yielded even better results, while the organizer and Mr Ciesielka finally approved.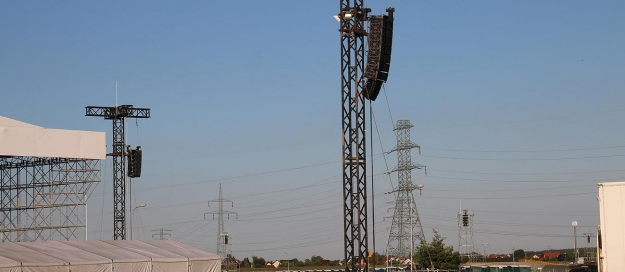 Gaining an additional 10db of headroom required the use of more speaker modules and amplifiers. Yet even with the amazing capabilities of OUTLINE systems, 300 meters of range seemed like a joke. A difficult task indeed!
We've entered the final project stage. We've outlined our needs for fulfilling our task. A detailed schedule was made and accepted by the production team. Its job was to secure all the time necessary to get the towers up and running, as well as tuning the system before the pilgrims' arrival and correcting any problems on the go.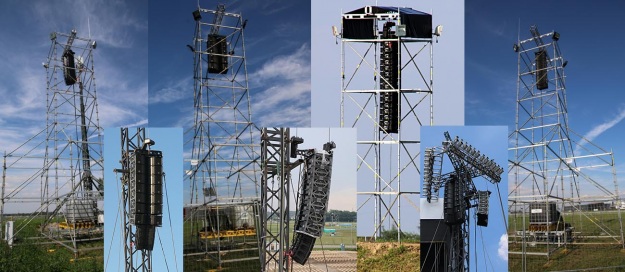 Pawel Zakrzewski made excessive calculations with EASE. Additionaly, the Oultine OPENARRAY program was used for simulations and comparison. My computer worked around the clock, receiving new calculations, tables and maps, as the shape and area of Zone 0 was frequently changed, this including the stages and main altar.
In the end we've prepared a project which utilized using towers with a constant amount of interchangeable transducers. We assumed 3.5 Mantas modules as an equivalent of a single GTO unit, 2 Mantas units for a GTO C12, and 1.5 Mantas for a Butterfly unit. Based on this, there should have been roughly a thousand Outline Mantas boxes deployed on site.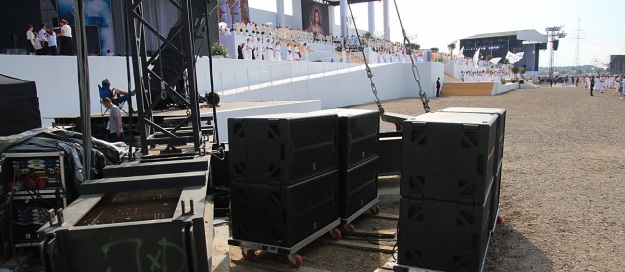 We were, of course, supported by numerous companies from Europe (Ireland, England, Germany, Denmark, Italy, The Netherlands and Hungary) in possession of Outline systems, but the majority of gear was our own. The project also included a backup system consisting of roughly a hundred Vertec VT4888 elements.
No other company in Europe has ever provided sound reinforcement solutions in such a vast area and for such a massive crowd of over 2.5 million people, and while I was slightly put at ease after hanging most of the units, I retained a slight concern of the results until the very end. The initial listening tests proved that SPL levels and range was greater than expected, both before and after necessary processing and eq. We were all relieved. Mr Wojciech Ciesielka, acting representative of the organizer, was impressed with the range, sheer sound and phase response of the system.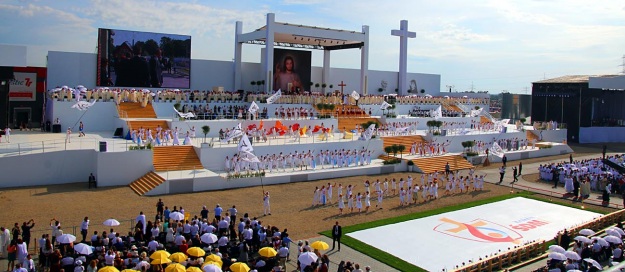 Which technical parameters made you choose OUTLINE?
JT: As I've said earlier: the dynamic range, huge, natural sound and unbelievable range. The EASE calculations cannot be bent to will – it's like playing chess against a computer, you simply have to stick to the rules. The calculation files can be reviewed from any place in the globe. The unbelievable dynamic range (150 dB for a single GTO and 147 dB for a C12) proved to be unmatched.
EASE results are unaffected by marketing tricks and legends told by salesmen and different users. It's pure physics, end of story.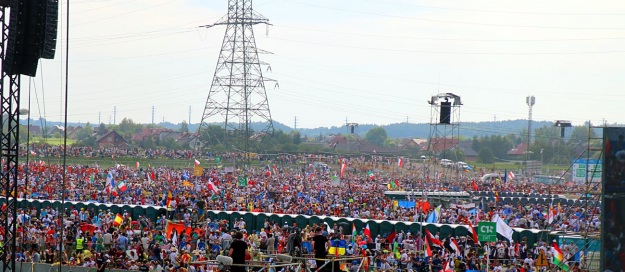 How did Powersoft and ARMONIA aid the project. Was it the first of its kind in Europe?
JT: We've intended to use Powersoft amplifiers and the Armonia suite right from the start and everything was done according to plan. The use of Powersoft amplification should not surprise anyone, as we've been using them for ages. The fact is that Powersoft amplifiers are officialy used to drive Outline systems worldwide.
The latest Powersoft models, X4 and X8 from the X series, are a "step towards the 22nd Century". We've used a total of 34 units, one per tower, as well as 166 additional K Series (T7/9/11/K10/K20) amplifiers and spare power racks. Armonia allowed us to control the amplifiers individually, in groups as well as globally, entirely from the FOH position. This was done by Pawel Zakrzewski, our systems engineer, supported by Giulio Gandini from OUTLINE.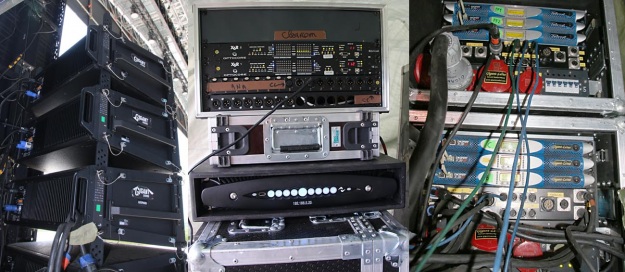 SYSTEM INSTALLATION
Rain, mud, wet terrain, vast area. Were these the only difficulties you encountered?
JT: It's just as you say – rain followed by high temperatures, difficulties with moving on muddy terrain, huge delays in construction and establishing the data transfer system and the need to follow security protocol, which was very surprising at times, but paramount during the preparation and rehearsal stages. All this resulted in significant difficulties and disruption of schedule.
As expected, the delays of other sections impacted our work and reduced our rigging and tuning time, almost to the point of failure. The rehearsals on the stage and altar were way too short and frequently interrupted by security teams.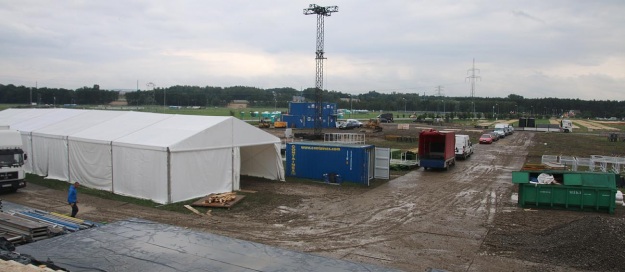 The data transfer system for our PA and the screens, provided by a third-party, was fully operational and glitch-free only 20 minutes before the start of the actual event. The final tuning was done during music performances and speeches.
We could not reach certain areas simply because of the massive crowd, which grew slowly but steadily. In the end everything worked fine, which is nothing short of a MIRACLE.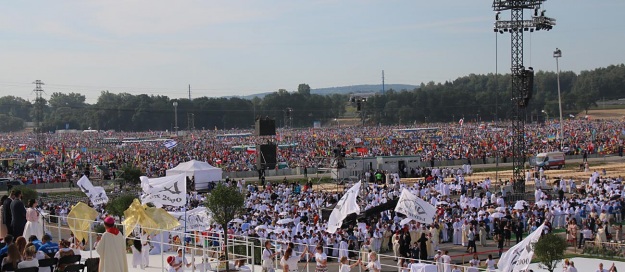 How long was the preparation stage and how many people were involved in the project?
JT: At first, that is in September 2015, it was just myself and Pawel Zakrzewski. After our offer was accepted, we were joined by Marcin "ZAPAS" Szafranski. As technical chief of the whole event, he participated in every production meeting in Warsaw and Cracow.
On the final meetings our entire supervising staff was present. We began rigging on the 16th of July 2016 with all the aforementioned difficulties with a crew of 10-12 people. The numbers grew with the advancement of work and the arrival of new equipment and technical teams. Depending on the stage we were at, the entire crew ranged between 40 and 42 people. The first to join us were the chiefs and supervisors of the individual stages and crews:
Main stage supervisor - Mariusz Łuczak (Zwierzak)
Monitor supervisor - Tomasz Zajma (Buchios)
Small stage supervisor - Łukasz Rozmiarek (Rozi)
Chief of logistics - Maciej Kaczmarek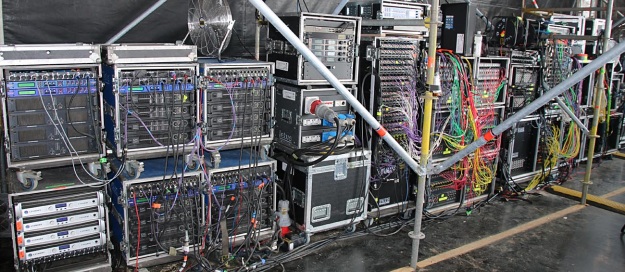 Before the actual event and after the final production agreements, we were joined by the remaining tech crew:
FOH (main stage)
Andrzej Sterna, Krzysztof Polesiński, Arek Wielgosik
MON (main stage):
oprócz Tomka Zajmy dodatkowo Olek Kęsicki oraz Wojtek Rzechówka
FOH (small stage):
Kuba Mikołajczak i Łukasz Błasiński
MON (stage stage):
Michał Święcki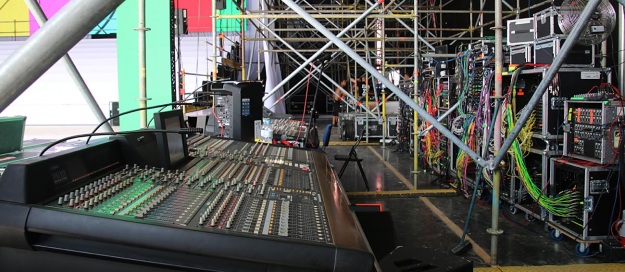 During de-rigging after the event concluded, despite the rain, wind and stormy weather, the technical crew completed the task in three and a half days, which is an absolute record considering the amount of equipment and area involved. It's also worth noting that the tech crew working in Zone 0 on the 30th and 31st of July camped entirely in their workplace in hammocks, sleeping bags and such.
At this point I would like to express my gratitude and respect to the entire tech crew for their very hard and equally efficient work during the entire event.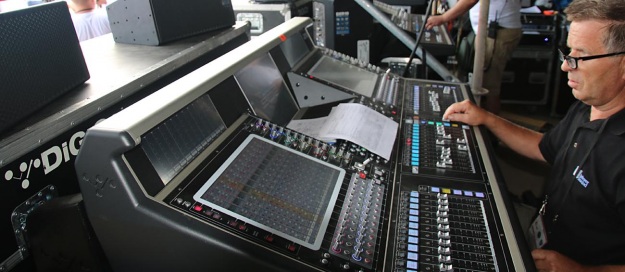 MIXING CONSOLES
Which of the consoles played the most important
role, and why?
JT: The whole project included a vast selection of boards and it's difficult to pick one as the most important. They were all connected into a single organism and each one had a role to play.
The main stage featured:
FOH – 3 x Digico SD5 consoles with 5 SD-Racks (about 280 channels in total), all connected with Optoloop.
1 x Yamaha CL5 with Optocore cards for system and data transfer supervision
1 x Yamaha QL5 for supervising the signal transfer to the press area
MON – 3x Yamaha PM1D, including one spare
2 x Yamaha QL5 consoles.
Small stage:
FOH - 1x SOUNDCRAFT Vi7000 + 1x YAMAHA CL5
MON - YAMAHA CL5 in full I/O configuration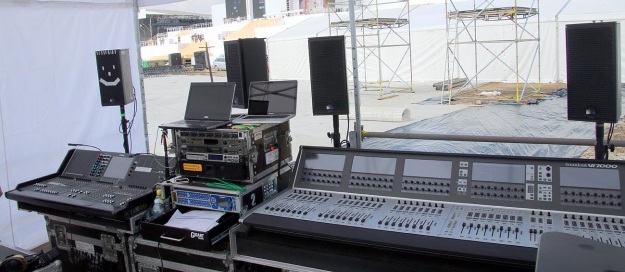 WIRELESS SYSTEMS
JT: Due to security reasons no wireless systems were used on site.
Were there any specific project requirements involved?
JT: Of course. Great amounts of microphones, stands, wired IEM's, wedges, side fills and drum fills (Meyer Sound LEOPOARD with subs), splitters and the connections between consoles, stages and OB trucks.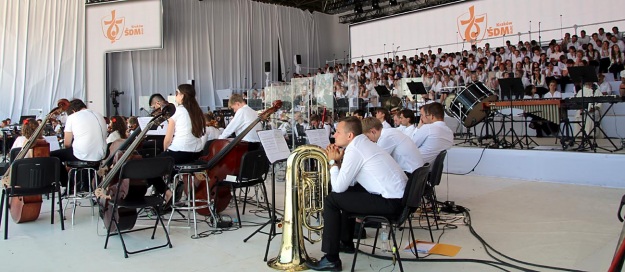 It was a massive installation (the musical cast included nearly 400 people in the orchestra and choir). For providing PA to the VIP areas on the sides of the altar, we used the narrow and tall active systems by RDUCH – it was my way of acknowledging their great performance in difficult church acoustics. For the central sectors in front of the stage we used 24 Mantas units in six clusters.
In such an event every usual piece of kit gains extreme importance, and that includes even the white stands, cables and microphones on the altar – so it doesn't really matter which element of the system I'd choose to describe. Each end every was extremely important and irreplaceable.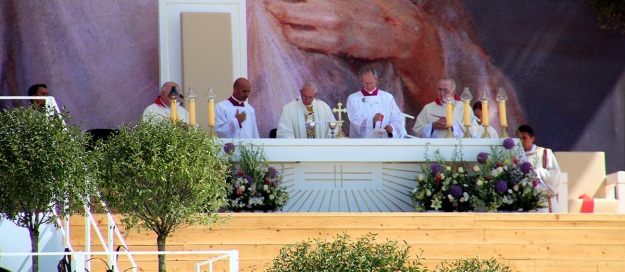 PERSONALLY SPEAKING…
What does partaking in such a project mean for your company and yourself personally?
JT: I think I've explained it in detail already. I've approached this whole affair as a challenge. Quite insane, when you look at the technical requirements, but as it turned out, absolutely doable. An event of such magnitude, great area and participants, probably won't happen again. It was the greatest production event in Europe and one of the greatest in the whole world. It was definitely an unique, but also a difficult and responsible task for myself and the crew.
We were preparing for a few months. We were ready. Unfortunately, not everything went according to schedule and the specified technical parameters. Sadly, some of the other crews were not entirely dependable under such stress. As the sound crew is usually considered the last, we were lacking time to work under normal conditions.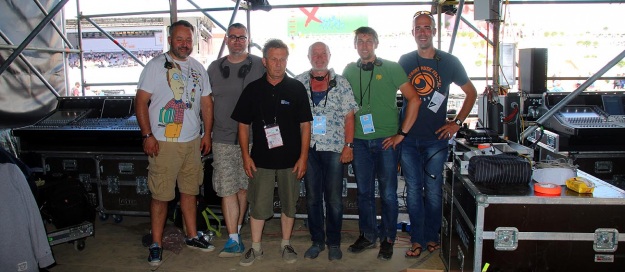 But still we've managed to accomplish everything, even considering the aforementioned problems and the difficulties to acknowledge some special technical needs by the production staff. This was done thanks to the experience and professionalism of the crew.
I am aware of the responsibility which rested on my shoulders. If everything went wrong I would face the consequences alone. But I am very pleased that it all went smoothly; I've received many thanks and congratulations, which means a lot to me, the crew and the entire company.
Thank You
J.T.: thank you
Kontakt do firmy:
reklama